<!— PENCIL PUSHDOWN AD TAG —>
The Weather Channel Gets The Full Monty
false
CREATED Aug 29, 2011
WARNING: ADULT CONTENT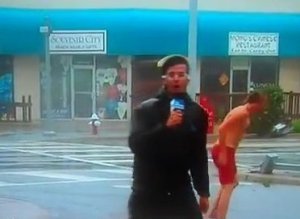 I've always thought that it's a bit ironic when reporters stand outside in the middle of a hurricane and tell viewers to stay inside because of the danger.
Anyway, it appears that a bunch of people in Virginia Beach decided to ignore warnings to stay off the streets during Hurricane Irene. One guy in particular decided to use a live Weather Channel remote as an opportunity to send a message to the world.
Exactly what that message was is a matter of conjecture?
Here's a link to the video. Who knew that the Weather Channel doesn't use a seven second delay?
Latest The Jeff Wagner Show